Hi! We are Kid Hyena (Matt & Maria) a musical culture clash and husband & wife duo formed on the backstreets of Barcelona and in the autumn we will head out on a UK tour.
Our vibrant live acoustic show and workshop programme specially created for this 'Planet Road' tour contains fresh and fiery musical flavours fused together with Body Percussion, Tap Dance, Acoustic Songs & an Interactive Experience where EVERYBODY becomes the song! We sing in English & Spanish with lyrics that traverse social & cultural themes.

Together in various musical incarnations for more than 10 years - we have played in venues, theatres and festivals in Germany, England, Italy and Spain. We have also provided concerts in a range of social and cultural programmes in educational centres, hospitals and prisons. Our show has been featured in diverse newspapers and music magazines.

As teachers, workshop facilitators and educators we have a combined experience of over 30 years working in schools, music & arts camps, music programmes and festivals.
Our workshop programme 'SNAP' for children & adults brings together our vast knowledge with the aim of providing a fun and positive learning experience for all participants.

For this 'Planet Road' tour we will be donating 25% of our proceeds towards WAR CHILD who do such fantastic work as a child protection agency in countries devastated by conflict.
Previous Clients Include: Vision Norfolk, Norwich International Youth Project, The Collective Sound, Baker Street International, One World Festival, Sussex Community Development Association, Krunch Youth Services & Many More!
SNAP WORKSHOP OPTIONS (FOR CHILDREN & ADULTS)
'SNAP' workshops have been designed through many years of experience in the field.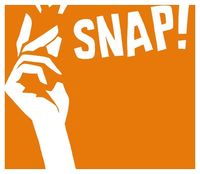 They are suitable for mixed age groups or specific age groups.
No previous experience or musical knowledge are needed.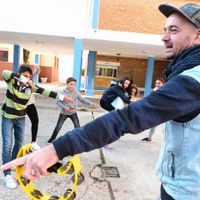 1. EXPRESS YOURSELF
Express Yourself is a lively, energetic and thought provoking combination of singing, movement, improvisation and action games. The emphasis is firmly based on self–discovery through play and letting go! This is an ideal workshop to bring people from any background and age together to aid the breaking down of barriers, judgement and distance.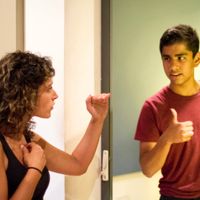 2. SiNG UP
Sing Up is an innovative and dynamic vocal workshop that centres around building confidence and singing ability through self expression.
Using a variety of techniques, games, vocal jams and songs based on improvisation, Matt & Maria are able to coax even the most shyest of individuals into singing.
This fun & unique approach guarantees a new experience and it is a great way to ignite or relight the fire of the singing voice.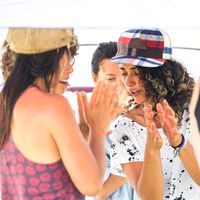 3. BODY BEATS
This workshop will explore patterns and techniques of body rhythm through coordination, beats & dance routines.
Our leading principle is 'We all have a heartbeat, we all have rhythm' and the workshop demonstrates that the body can provide a myriad of sounds including stomps, claps, clicks, pops & more that can be harnessed to create rhythmic group music.
The dynamic beats and vibrant sounds help to teach rhythm, listening, group cooperation and confidence building skills.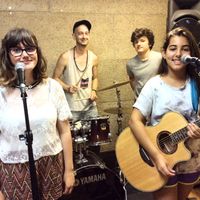 4. SONGWRITING
We believe everybody has a song inside them and this workshop is designed to coax one out of an individual or group.
The workshop explores song, rhythm, musical expression and lyric writing giving the participants an opportunity to work and create music together. Guided by us, the group will work with the voice, instruments, beat making software and other musical skills​ towards the completion of the song.​
The emphasis is placed on teamwork and creativity giving all the space to express themselves. If participants do play an instrument, they are welcome to bring it along.

*An extension of this workshop involves the recording of the song with an accompanying video.
*Venue Size:
Depends on size of the group. For a good creative energy a minimum of 10 people is desirable.
People will need space to move.
*Duration:
We can tailor the duration of the workshop to your needs.
From 1 hour, 3 hours, one day or a whole weekend. The choice is yours.

*Price:
The fee is negotiable and 25% of proceeds from the workshop go to WAR CHILD.

Unsure what is best for your group? Just get in touch and we will gladly help you.
"

Fantastic week of workshops. Brought us all together with fun & music"
"

…you do extraordinary and unusual things in a very supported way. Lots of laughs, jokes and great leadership"
"

The Workshops are ace! You are encouraged to express yourself in a non-judgemental environment"
"

Loads of fun and laughing! A magical weekend!"
"

We had a lot of fun doing a body percussion workshop with Matt and Maria. It was accessible to the whole group and provided a great opportunity for expression. An evening of energy, rhythm and laughter"